---
The Best Gift For Kids And Family!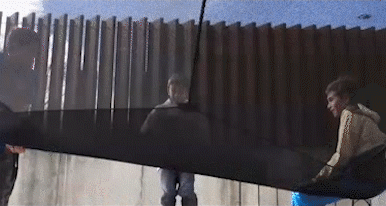 Our largest hammock , capable of holding 4 adults or a large group of kids.

It is the perfect option for large group trips, or large family trips. If building the ultimate basecamp is your plan, then this is the hammock to include.
Comfort & Protection: The hammock unique 3-point anchor system provides a taut and tensioned base to the hammock giving you the most comfortable night's sleep you've ever had in a tent whether you sleep on your front, back or side.
No Level-Ground Needed: The hammock is suspended off the ground between 3 anchor points and so there's no need to find level ground. Being held above the ground moves you away from damp, uneven or stick/stone covered ground.
The comes with 3 underfloor storage compartments, giving you plenty of space to organise and store smaller items.
The perfect camping bonfire party
Don't worry the size, it's just as easy to set-up as all our other hammocks, which makes it perfect for first time tree campers and hammock owners who want something that's going to be easy to set up and unique to camp in.
It is perfectly suitable for any scene and is not restricted by the tree.
 ✨Perfect hammock✨
SPECIFICATIONS
Item Type:
 Aerial Camping Hammock
Size:
9.2 x 9.2 x 9.2ft
13.1 x 13.1 x 13.1ft
Capacity:
Standard: 150 kg/ 330.7 lb
Upgrade: 300 kg/ 661.4 lb
Color:
 Black, Green
Use For:
 Outdoor, backyard,garden, pool, deck, courtyard, dooryard, park
PACKAGE INCLUDES
Hammock x 1
Carabiner x 3
3M Strap x 3
Cell Phone Pocket x 3
Storage Bag x 1